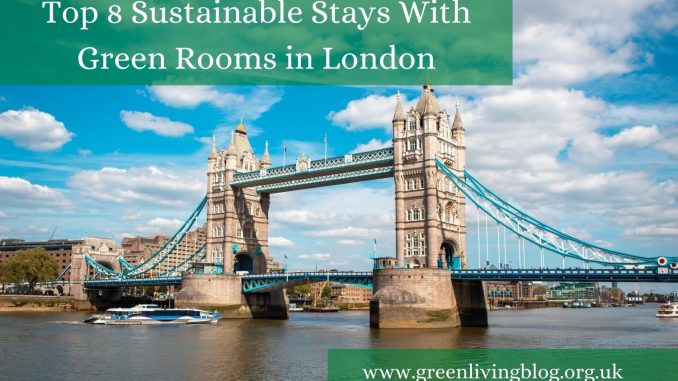 With the ever-increasing global warming threat, not just individuals but also businesses are adapting to an eco-conscious way of driving their operations, especially in the hotel and hospitality industry.
With the rise in demand for eco-friendly living, many hotels and co-living properties have opted to provide more sustainable and greener rooms to guests.
London, the English capital, is one such city that has made its mark in reducing its carbon footprints and encouraging a sustainable way of living with many boutique hotels and staycations that offer luxury stays with more environmentally friendly living options.
So, if you favor sustainable living and are planning a trip with your loved ones or have a meeting with potential stakeholders for new business ventures, you should check out these exquisite, luxurious, and stunning boutique hotels in London that provide green room stays.
1. QBIC Hotel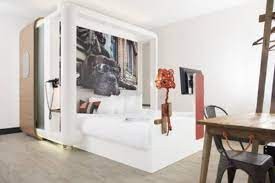 42 Adler St,
London E1 1EE
Situated by the footsteps of the City of London, QBIC Hotel offers a unique-exquisite experience to its customers with the city's best street foods, art galleries, boutiques, and nightlife just around the corner.
Apart from their excellent hospitality, QBIC's ethos is fuelled by a green culture, which ensures a sustainable and eco-friendly stay for their clients. The rooftop is systematically installed with solar panels providing energy-efficient lighting in every corner of the hotel.
QBIC takes immense pride in starting the Stop-the-Water-While-Using-Me toiletries project, an excellent initiative to promote the green revolution. For overnight stays, Crashpad rooms are decorated with recycled objects like hosepipe lampshades, organic mattresses, and white sun-yellow walls to provide home-like comfort.
2. Treehouse London Marylebone
14-15 Langham Place
London W1B 2QS
With sustainability at the heart of its architecture and rooms inspired to bring back those childhood days of adventure and fun, Treehouse London offers a fascinating and mesmerizing experience for green stay lovers.
Silver birch tree trunks perforating through the bathroom tiling and organic bedding with adorable sloth toys are hard to miss out on for nature lovers of all ages.
This place is indeed a sustainable green stay with plant adornments hanging from rafters, wooden basket lanterns and wicker chairs cushioned with vibrantly patterned fabrics.
Greenery is natural and gives a sense of being in green heaven; despite being in the centre of urban hustle-bustle. Following the concept of sustainability, this boutique hotel has minimized the use of plastics and has adapted to recycling and composting plans.
Moreover, relish the cuisines and delicacies cooked with organic ingredients at Madera, a Mexican restaurant that obeys uncompromising eco-conscious protocols. Treehouse London has also been featured in the Sleeper Magazine for its playful, nostalgic eco-friendly stays.
3. Haymarket Hotel
1 Suffolk Pl,
London SW1Y 4HX
Neighbouring the renowned Haymarket Theatre Royal, Haymarket Hotel is an elegant Georgian townhouse. Each floor of the Haymarket Hotel allures the customers with natural light through floor-to-ceiling windows, fascinating sofa lounges ideal for remote workers, raspberry-red cushions, and embedded shelves lined with honey-marked vintage architecture.
Endeavouring to be eco-friendly and bring sustainability to the customers, designer Kit Kemp has initiated a sustainable collection of reusable products. These include recyclable paraben-free RikRak toiletries, sewing kits made with bioplastic, and laundry bags formed using recycled plastic bottles.
4. The Zetter Townhouse Clerkenwell
86-88 Clerkenwell Road
London, EC1M 5RJ
Situated at the cusp of central London, amidst the trendy streets of Clerkenwell, The Zetter Townhouse is a perfect getaway sitting in the rarest and most unexplored parts of London, away from the busy tourist spots.
This magnificent complex consists of two Georgian buildings, and the entrance showcases a vintage arrangement of furniture and ornaments that can teleport guests to the historical era.
The Zetter Townhouse has taken sustainability to new levels by facilitating water supply through a borewell situated underground in the hotel building. In addition, this boutique hotel takes a step further toward sustainability following a recycling and composting scheme to the core.
They also provide bicycles to the guests to encourage eco-conscious explorations of sites. Apart from being a sustainable stay, this hotel is also a vintage expedition brimming with old-world furnishings and diverse novelties like antique trunks and beds with the canopy of British flags.
5. Ham Yard Hotel
1 Ham Yard,
London W1D 7DT
Standing firmly in Central Soho, Ham Yard Hotel has selflessly embraced the blooming green movement. Awarded with the BREEAM Excellent rating, this hotel is acknowledged to provide a sustainable and environmental-friendly energy supply.
This eco-friendly hotel focuses on reducing water consumption by following a few strategies such as:
All toilets are dual flush toilets.
The plants used for green roofs and landscaping are native – no irrigation is required.
A water consumption monitoring device is installed to monitor and warn where there is any possibility of water leakage or excessive water use inside the hotel.
They have installed Photovoltaic Panels on the roof to generate additional electricity – and all this electricity is used inside the building.
Sustainable waste management has been a priority since construction. As a result, the construction team recycled almost all generated waste on-site during construction, with minimal waste sent to landfills.
6. Artist Residence Westminster
52 Cambridge Street
London SW1V 4QQ
Artist Residence's untidy yet chic interiors are illuminated by a Thomas Cubitt-designed Regency townhouse on a quiet street in Pimlico. In close proximity to London's iconic pride, Buckingham Palace, guests are just a 20-minute walk away also from Green Park.
To allure the A-listers, Artist Residence London uses eco-friendly, sustainable cleaning products. In addition, they use recycling schemes, reclaimed and salvaged wood materials for pieces of furniture (such as the wardrobe doors made from delivery pallets), and even natural skincare products.
This homely townhouse-style hotel gets all its waste recycled, and the room lights switch off when guests leave. This stylish retreat offers individually designed rooms to stay in the heart of London and an all-day restaurant.
7. The Beaumont Mayfair
Brown Hart Gardens
Mayfair, London W1K 6TF
The Beaumont is considered an environmental initiative, as they are committed to reducing our environmental impact and improving environmental performance.
In early 2020, they introduced an exciting new innovative collection of D. R. Harris toiletries, an initiative to 95% plastic-free solution for our bath, body, and hair care products.
All waste is recycled by their specialists in the field, with nothing going to landfill. In addition, they keep food waste to a minimum, and all food waste is composted.
Green Tourism has recognized this eco-friendly hotel with a Silver Award and by Preferred Hotels & Resorts with a Certificate of Excellence in its annual GIFTTS Awards (Great Initiatives for Today's and Tomorrow's Society) for their sustainability efforts.
Also, in 2018, The Beaumont received a Gold Standard by First Mile Recycling for achieving 100% recycling in cardboard, glass, and food waste.
8. Green Rooms
13-27, Station Road,
Wood Green,
London N22 6UW
Located opposite Wood Green Tube Station, Green Rooms offers affordable accommodation in a sustainable way inspired by creativity.
Embarked on the mission to Re-use, Re-love, and Re-Imagine – from furniture to the building itself – Green Rooms ensures everything at their venue promotes sustainability. They believe going green promotes a healthy ecosystem that fosters a healthy life.
In addition, they only work with social enterprises and ethical suppliers who genuinely value their morale. Green Rooms is one of our favourites, and we certainly recommend all our readers to stay in this lavishing, customer-friendly hotel.
Whether you are looking for a calm and quiet, luxurious, or exciting stay in London, the listed options will help you with making greener accommodation choices that will leave you feeling better about your travels.
737 total views, 26 views today