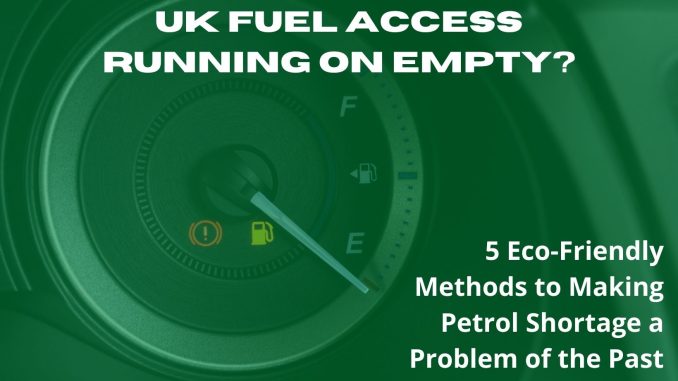 With protests led by environmental activists causing substantial fuel shortages on UK motorways over the Easter weekend, demonstrators are expressing their outrage over how we've been 'caring' for our planet since the dawn of global warming.
Activists from the unapologetically outspoken climate change coalition 'Just Stop Oil' have been very vocal in declaring their disdain by undertaking more proactive measures to drive impactful awareness surrounding the severity of environmental sustainability, quickly making the UK's fuel shortage issue a controversial hot topic on the eco-friendly landscape.
Wouldn't it simply be sublime to live on a greener planet where we don't have to bother with the burden of fossil fuels?
In unpacking the current state of affairs regarding petrol shortages in the UK, this blog entry explores five safer, greener alternatives that enviro-friendly aficionados and subscribers to the ethos of the 'Just Stop Oil' movement can adopt in hopes of shifting the tide on climate change.
The UK Fuel Crisis Explained
With fuel prices in the UK reaching record highs this year, motorists are facing tough times as petrol shortages are fast-superseding soaring spikes in the cost of petrol and diesel due to environmental activists blocking major fuel depots.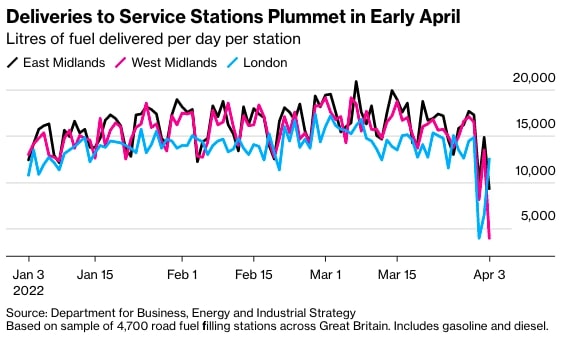 Image Credit: Bloomberg
From increased demand following post-Covid lockdowns to Russia's invasion of Ukraine, fuel shortages in the UK have been an ongoing issue, with the 'Just Stop Oil' movement the latest inhibitor to fuel supply in the UK.
Activists Unify on a Crusade to 'Just Stop Oil'
Climate activism group 'Extinction Rebellion' has teamed up with 'Just Stop Oil' to protest the environmental impact of oil and gas by blocking key terminals across the country:
Heres an update from Grays Oil Terminal, Essex#JustStopOil #NoNewOil #DontLookUp pic.twitter.com/xuN6cVpfmo

— JustStopOil (@JustStop_Oil) April 11, 2022
Deadset on their intentions to disrupt fuel supplies to London and South-East England, the eco-friendly coalition of activists has been unwavering in pushing the UK government to agree to 'Just Stop Oil' investments immediately.
The Fuss Over Fossil Fuels
Speaking at the Intergovernmental Panel on Climate Change on February 28th, 2021, Co-Chair Hans-Otto Pörtner stated:
"The scientific evidence is unequivocal; climate change is a threat to human wellbeing and the health of the planet. Any further delay in concerted global action will miss a brief and rapidly closing window to secure a liveable future."
With the overarching objective to demand that the government immediately halt all future licensing and consents for the exploration, development and production of fossil fuels in the UK, 'Just Stop Oil' uses nonviolent civil resistance tactics as a powerful way to demand their rights, freedom, and justice.
"If governments are serious about the climate crisis, there can be no new investments in oil, gas, and coal, from now." – Fatih Birol, Executive Director, International Energy Agency, 18 May 2021
The UK government is pushing forward by investing a total of £68 million into twenty-four projects based across the UK that have been awarded the first round of funding through the Longer Duration Energy Storage competition. These projects will help to develop new energy storage technologies that can utilise stored energy as heat, electricity or as a low-carbon energy carrier like hydrogen.
The Energy and Climate Change Minister Greg Hands points out that such initiatives will allow the UK to extract the full benefit from its home-grown renewable energy sources, drive down costs and end its reliance on volatile and expensive fossil fuels.
As part of the UK government's net zero strategy, the transition to clean, renewable energy by increasing the use of clean energy sources like wind and solar power is an attempt to move away from fossil fuels altogether as the prime minister Boris Johnson explains in his campaigns.
Our Net Zero Strategy:

▪️ Unlocks billions of pounds of investment in green technologies
▪️ Creates thousands of jobs in new, future-proof industries
▪️ Sets out how we will end our contribution to climate change and reach #NetZero by 2050

More info: https://t.co/sNwiksFE1E pic.twitter.com/Al42cM4TP7

— UK Prime Minister (@10DowningStreet) October 19, 2021
5 Safer Eco-Friendly Alternatives to Forgetting About Fuel
Spoken through the compelling words of former UK Government Chief Scientist Professor Sir David King at the National Climate Emergency Summit in February 2021;
"What we do in the next 3 to 4 years will, I believe, determine the future of humanity."
With wind turbines and solar panels generating the vast majority of renewable energy, further breakthroughs are needed for the energy sector to cut its ties with fossil fuels for good.
Manufactured to benefit the environment rather than harming it, here are five alternative types of energy that could see us do away with the petrol shortage issue once and for all: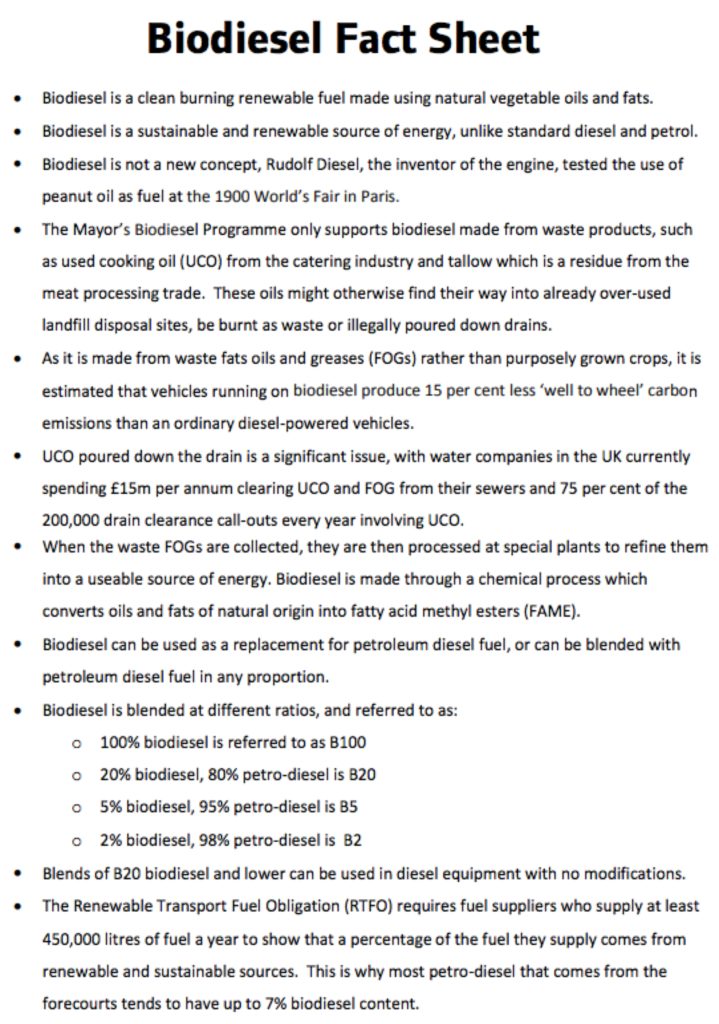 Image Credit: London.gov.uk
Although biodiesel presents a plethora of positives for our planet, it still has its fair share of challenges, with storage and disposal causing significant problems over time.
Petrol Shortages Clear Sign to Move Away from Fossil Fuels for Good
Deconstructing the 'disturbance' debate, a misalignment in the understanding and use of our time is evident – while activists look towards the future, opposers of the nationwide eco protests choose to live in the present. Merely meandering through the wins and losses of each passing day, the main point of contention conveys itself in the notion that Brits could do with fewer protests and more petrol in their lives.
With the implementation of some alternative energy source projects currently in effect, there has been massive momentum to part ways with fossil fuels for good. Not without their fair share of pros and cons, it's clear that, with the leaps and bounds made so far leading us on a prospectively positive path to a petrol- and oil-free planet, the pursuit of environmental sustainability and the safeguarding of mother earth for future greener generations to come lives on.
1,695 total views, 1 views today
Author Profile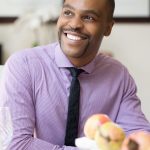 South African wordsmith Zanda Simamane is an enthusiastic, cheerful, conscientious, and talkative individual who is likely to express my emotions, enjoy change and exhibit a lively attitude. In addition to being warm-hearted and outgoing, he is actively interested in others and tolerant of them. Throughout his career, Zanda's exceptional copywriting, editorial, and communication skills have proven valuable in his diverse fields of interest, some of which include Copywriting, PR & Marketing, Entertainment & Fashion Journalism, Social Media, Tech, and Influencer/Talent Management.