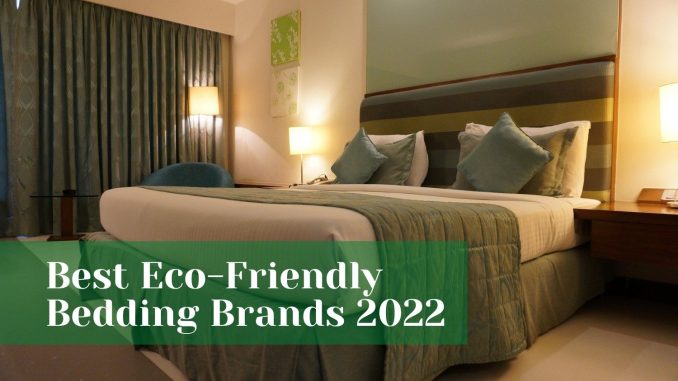 As a consumer, it has become incredibly complex to make a purchase decision that is ethical and educated. There are many contradictory practises, including so-called greenwashing, to be aware of.
And that is where sustainable fashion and textiles come in. It's a mash-up of many moving parts, including organisational ethical practices, distribution network openness, low-impact regulations, give-back initiatives, and, perhaps most importantly, the ecological components that produce the moral textiles we use also in our home.
4 Best Eco-Friendly Fabrics for Bedding
1. Organic Cotton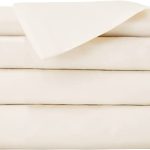 Cotton, next just to polyester, is among the most widely used fibres in the textiles business world. Cotton is one of the most extensively used fibres for beds because of its sturdiness and breathability, however regular non-organic cotton has some severe environmental problems.
Cotton has been one of the world's leading genetically engineered crops, accounting for 16 per cent of all insecticides although occupying just 2.5 per cent of agricultural land. So, while traditional cotton is comfortable to sleep in, it is not good for the environment.
Organic cotton linens are good for the environment, safer for organic agricultural producers, and, of course, healthier for people! You should check that organic cotton is certified by the Global Organic Textile Standard, which guarantees that it was handled and produced responsibly and ethically.
Organic cotton is one of the least costly and simplest to find green bedding materials, making it ideal for those on a tight budget or that don't want to deal with a long list of difficult washing instructions.
2. Linen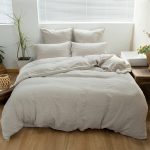 The flax crop, which grows quickly and needs almost no fertilisers and pesticides, is used to make linen. In addition, it uses a lot less groundwater than organic cotton. Producing flax occasionally involves no irrigation at all, relying only on seasonal rainfall. The bulk of flax is currently farmed in Europe and the United States.
Linen fabric is extremely permeable, and its temperature-regulating characteristics make it ideal for anything from summer days to chilly winter evenings. Linen is a bulkier fabric that is more stable and stronger to sunlight than cotton. While not as smooth as other sleeping fabrics at first, linen softens with every rinse.
Linen is ideal for individuals who live in warmer regions or who wish to use a cooler kind of fabric regardless of the weather. Linen bedding is an expense, but its superior quality assures that it will last a lifetime.
3. Eucalyptus Tencel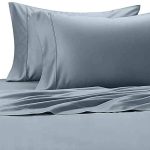 Tencel is a cellulosic fibre created in a closed-loop technique from ethically sourced, rapidly, and extremely recyclable Eucalyptus trees. Tencel has a velvety feel and a lustrous sheen. The soft, silky fabric is also long-lasting and sturdy. Tencel is antibacterial, as well as antifungal. Tencel is excellent for delicate skin and wicks humidity out, providing it with a fantastic alternative for anybody who sweats at night.
4. Lyocell From Bamboo
Another satiny vegan material is bamboo lyocell. Bamboo is a fast-growing plant that provides 35 per cent more oxygenation than forests while also improving soil health and preventing erosion. A shuttered technique catches and recycles 99 per cent of the compounds required to turn bamboo into lyocell cloth.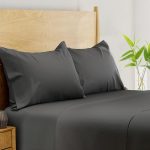 Bamboo Lyocell is a luxury textile that looks like silk but is fully vegan. It's sleek, silky, and incredibly soft. Humidity resistant, antibacterial, the fabric is ideal for people with skin sensitivities or other concerns. Despite its silky appearance, Lyocell is tough and resistant to wear and tear. Lyocell is beneficial for people with problematic skin conditions, but it also reduces humidity, making it a comfortable alternative for those who sweat a lot.
Top 12 UK Brands for Green Bedding
The following brands use some of the above listed environmentally friendly textiles, but what if you fancy different designs like a more vintage look?
Check out the below eco-friendly and trendy green bedding sets that are also hypoallergenic, durable, soft, while not requiring specific treatments to be used right out of the dryer and get cosy.
1. H&M
The fashion industry and environment don't usually go hand in hand, however, H&M is working to improve its environmental credentials by pledging to utilise only repurposed or sustainably produced products by 2030. Its 100% linen bedding and mattress collection are the most affordable and popular we've seen.
Expert Tip: Linen is a long-lasting fabric and therefore this brand's set will act as a long-term investment.
Website: https://www2.hm.com/en_gb/index.html
2. Eve Sleep
Eve is most known for its renowned mattress-in-a-box service, but the firm also offers a full spectrum of sleep items, such as pillows, duvet covers, and sheets. Their mattress package is a bamboo/linen hybrid, but it includes two cushion covers, a duvet, as well as a sheet for £139, making it excellent value even when the business isn't offering a promotion.
Expert Tip: Start using this bedding set for a week and notice the positive difference.
Website: https://www.evesleep.co.uk/
3. Made
Made bedding sets do not include linens or extra cushion covers, limiting your ability to blend and mainly depending on a unique design. The emerald green duvet cover from this brand, for instance, should be paired with dusky mauve linens and additional pillows.
The majority of sets are available to order; however, certain colours may require a 14- to 16-week waiting period. So, if anything catches your eye, act quickly to get it before it sells out, or you'll have to wait a long time for it to restock.
Expert Tip: For trendy and unusual bedding set designs order from this brand and set up an eco-friendly bedroom much earlier.
Website: https://www.made.com/
4. Bedfolk
Whenever the Bedfolk say that it's gentle, they mean it. This brand's Ink colourway is the finest linen anybody has ever touched, and it's quite remarkable! Even finer, the rich, black colour bedding set is classy and looks stunning on the mattress. People also appreciate the fact that the sets arrive with a coordinating linen sack, which keeps everything tidy in your cabinet when not being used.
Expert Tip: Bedfolk linen is 30% more durable than cotton, therefore proves beneficial for working labour households who favour green bedding.
Website: https://bedfolk.com/
5. Loom & Last
Whenever one refers to exquisite French linen, this is a company that understands what it's doing. The mattress is made from flax crops cultivated in Normandy's rolling green hills, according to Loom & Last, offering customers the best in the world.
Expert Tip: Use this bedding for any vintage furnished bedroom to create that rich look.
Website: https://www.loomandlast.com/
6. Scooms
Scooms bedding product is simple and tasteful, with the nicest baby pink tint. The cloth has a lovely, wrinkled quality that just really emerges into being after washing, no ironing required.
Expert Tip: This can be utilised in places of cold weather as these sheets are warm and cosy.
Website: https://scooms.com/
7. Secret Linen Store
This bedding is astonishingly large, reaching emperor proportions, which is appropriate considering its regal design heritage.
Expert Tip: Add a few cool colours to this set to make your bedrooms cosier.
Website: https://www.secretlinenstore.com/
8. The Linen Works Picardie
This bedding set is created of the best Belgian flax weaving that turned out to be both beautiful and light. These smooth lines are of a relaxing moderate tint in ecru, linen's original pre-dyed colour.
Expert Tip: Use this setting if you are having trouble with your sleep cycle to experience ultimate comfort.
Website: https://thelinenworks.co.uk/
9. Soak and Sleep
This set is perfect for blending and combining colours, with six tones to select from and each item offered individually – but the contemporary mono aesthetic with a coordinating bed sheet, fitted linen, and set of cushion covers really is a winner.
Expert Tip: This brand's bedding sets are often used to prevent fungal and bacterial infections.
Website: https://www.soakandsleep.com/
10. Piglet
Piglet, whose linen bedding range remains to astound, is yet another company providing bundle-buying alternatives. That's one of Piglet's best-selling points, and it's easy to understand why. The midnight striped linen in the bedroom gives it a new, maritime aesthetic that's wonderful for springtime but can be used throughout the year.
Expert Tip: This brand's linen sheets do not shrink, making it an economical investment.
Website: https://www.pigletinbed.com/
11. Dunelm Rowan
Researchers were pleased to find Dunelm's fresh and economical offering because genuine linen isn't economical. Even at a giant king-size, bed sheet set is reasonably inexpensive at £100.
Expert Tip: To bring forth its finest attributes, give it a thorough wash prior to usage.
Website: https://www.dunelm.com/
12. Chalk Pink Linen CO.
The beautiful homely, spring-fresh aroma of this pre-washed kit is the first thing that concerns you. When you inhale it, you're taken to a luxury resort or a countryside guest room.
Expert Tip: Add in some flowers to give the bedroom a vintage countryside touch.
Website: https://chalkpinklinencompany.co.uk/
The Bottom Line
Mattresses and bedding sets made of organic cotton can be cleaned at any heat and therefore be exposed to even a hot wash now and then. When you choose any of the listed green bedding sets, however, you would like to look after it or use it for as long as possible. When you've spent time looking for environmentally, sustainable, and ethical bedding, the very last thing you need to do is expose your bedding to chemicals from your washing detergent.
There are several eco-friendly solutions for your laundry rinse, thankfully. For instance, putting a solution of baking powder over the stain and then washing it off half an hour later typically works. Washing the linen in vinegar, lime juice, or other acidic liquids will also help. Make the most of these green bedding sets suggestions to have create an eco-friendly bedroom where you get enough rest as well as feel satisfied giving back to nature.
660 total views, 1 views today
Author Profile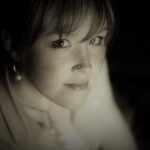 Blogger and Educator by Passion | Senior Online Media & PR Strategist at ClickDo Ltd. | Fascinated to Write Lifestyle Blogs in News & Education I have completed a journalism summer course at the London School of Journalism and manage various blogs.