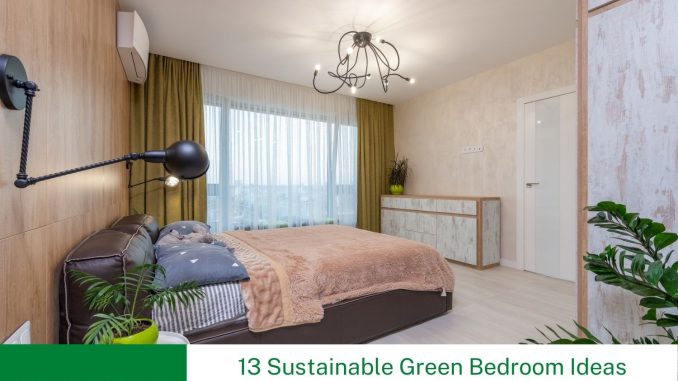 Green living and a sustainable lifestyle that attempts to make choices that conserve the Earth's natural resources are trending in light of global warming.
But what are the benefits of green living and why should you start with it in your bedroom?
In this article, we have listed some benefits of green or sustainable living in your home and ideas of how to implement these starting with your resting place.
Green Living at Home
1. Reduces Environmental Pollution
The most important benefit of green and sustainable living is that it reduces environmental pollution. When you choose to discard the usage of plastic, you take a step forward to green living and contribute your share in reducing pollution.
2. Conserves Earth's Natural Resources
Going all green ensures that you are playing your part in conserving natural resources. When you use efficient lighting sources instead of conventional sources, you conserve the earth's natural resources. You can also plant trees in your apartment or homes to reduce global warming.
3. Reduces Your Home Maintenance Costs
Reports say that recycled materials last more than traditional materials. This, when you are using recycled materials for your home decoration, you are potentially reducing your home maintenance cost.
4. Improves the Air Quality
It has been reported that green and sustainable homes have low toxins, resulting in better and improved indoor air quality, making it easier for people to breathe and stay healthy.
Why Is A Green Bedroom Important?
As mentioned earlier, global warming is a serious issue! While many nations are putting efforts to fix this problem on a large scale, it is time for us to lend our hand to them and play our part on a micro scale! You can start by going all Green inside your bedroom.
13 Sustainable Green Bedroom Ideas For A Healthy Lifestyle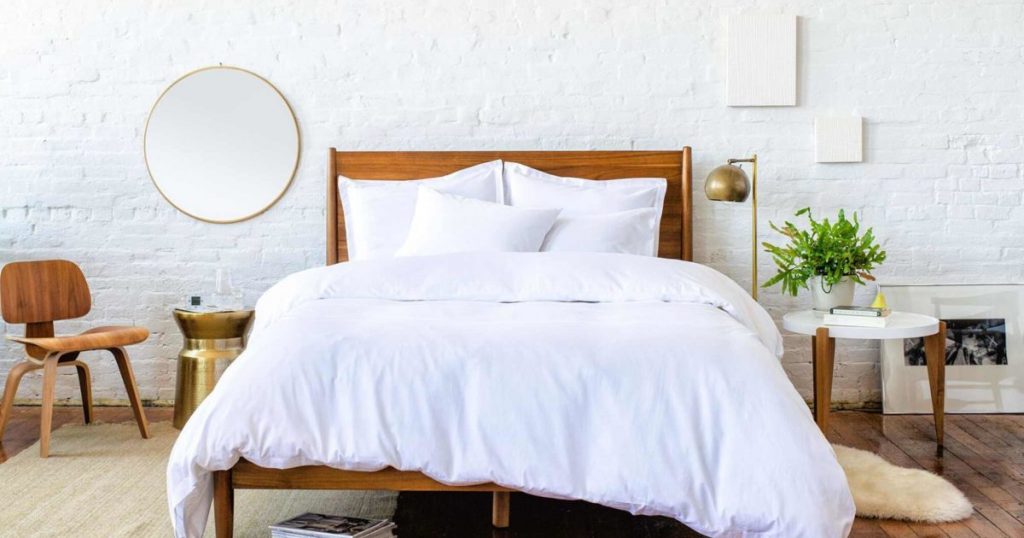 Your bedroom should look classy and aesthetic, but it should also follow all the green and sustainable lifestyle principles!
So, consider these 13 sustainable green bedroom ideas for a healthy and happy lifestyle.
1. The Bed
Let's begin with the most important element of our bedroom – the bed! You can look for sustainable materials like wood, cotton and natural latex that do not pose more harm to our environment. For more ideas with regards to furniture and bedding check out our green bedroom décor guide.
2. Bedding
You can go for hemp and cotton bedding instead of conventional bedding sources. Hemp bed sheets are more durable and last longer than conventional fabrics.
3. Paint
Traditional paints contain volatile organic compounds, which emit harmful chemicals. Opting for recycled paints or natural paints can be your best pick to save yourself from toxic chemicals. Recycled paint is unused paint that was bought beforehand but was not used. Natural base paints include plant oils like sunflower oils. They can also contain milk. Additionally, they do not emit volatile organic compounds.
4. Furniture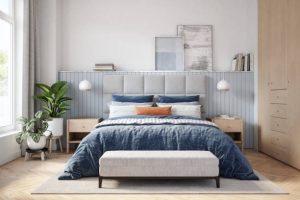 You can opt for wood and bamboo furniture to make your bedroom look aesthetically pleasing yet sustainable!
Wood – It is a naturally renewable resource that absorbs carbon dioxide, making your bedroom environment cleaner and pollution-free.
Bamboo – Bamboo produces more oxygen, thus reducing carbon dioxide concentration inside your bedroom. Bamboo furniture is more durable than any other furniture which will reduce your furniture maintenance costs as well.
5. Energy Efficient Lighting Sources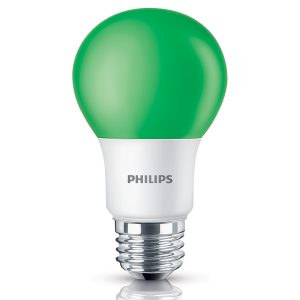 Light is a source of energy. Using light energy unnecessarily can cost our future generations. Experts advise us to install efficient lighting sources for our bedrooms and homes.
LED bulbs – One can replace old incandescent bulbs with LED Reports show that LED bulbs use less energy and last longer as well. They help us in saving energy sources and reduce the cost of our electricity bills.
Dimming lights – One can consider opting for dimming light technologies that not only utilize less watt power but also help in extending the lifespan of your bulb. It also enhances our mental health and is energy efficient.
CFL bulbs – You can also look for CFL bulbs to lighten up your bedroom space. They also consume less energy than traditional incandescent bulbs to emit light. Additionally, you do not have to compromise with the quality of lighting as it is similar to traditional light quality. They are durable just like LED bulbs and last longer as well.
6. Indoor Plants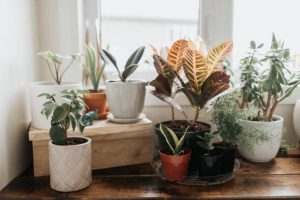 Indoor plants not only improve indoor air quality, but it is also a great way to make your bedroom look more aesthetic and soothing! It refreshes up your eyes and reflects calming vibes! You can decorate your bedroom with plants that are not prone to common plant diseases by placing them on your furniture or bedroom windows.
We have listed a few plants that can refresh your mood and improve indoor air quality.
Bamboo palm – Are you one of those who loves a cute little plant on your bedside table but also does not have enough time to water it regularly? Then bamboo palm can be your best choice! It needs less water than any other Indoor plant. Additionally, it purifies the indoor air by filtering out formaldehyde, benzene, and other toxic chemicals.
Peace lily – According to NASA'S report, some indoor plants help in improving the air quality by fighting against harmful chemicals emitted by detergents and other household stuff. Peace lily plant is one among those Indoor plants which can help us to improve our indoor air quality. It also has a unique appearance, which will enhance the look of your bedroom. Be cautious not to keep it. I'm in direct sunlight!
7. Cotton Fabricated Curtains And Tablecloth
Cotton is a naturally derived fabric. You can make cotton curtains and upholstery with various colour patterns that not only look aesthetically pleasing but are also sustainable.
8. Eco-Friendly Jute Baskets
Jute baskets can be a great replacement for plastic baskets. You can use them for decorating your bedroom or can store things in them. They are made following sustainable principles. They also come in various colours and sizes for you to pick one according to your preference.
9. Go For Jute Carpets Or Rugs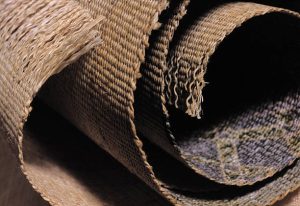 Instead of using regular, factory-manufactured carpets that contain harmful chemicals, you can opt for jute carpets that are green and sustainable. You can also choose vintage-looking and traditional rugs to decorate your floors. Remember, they might be a little costly but will last longer than factory-made ones.
10. Sustainable Mattress
Most traditional mattresses use polyvinyl chloride or PVCs, a form of plastic. As mentioned before, plastic is the most dangerous source of pollution. Thus, you must look for alternatives to traditional mattresses. You can instead opt for cotton, jute, and hemp mattress that not only is sustainable but also looks aesthetic and stylish.
11. Ditch Air Conditioners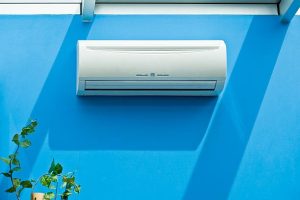 Did you know air conditioners emit a lot of harmful chemicals like chlorofluorocarbons or CFCs which can never be degraded! They take part in free radical formation reactions and cause ozone layer depletion and ultimately lead to global warming. Instead of air conditioners, you can opt for a sunshade above your windows to prevent sunlight in! You can also keep Indoor plants that will also keep your bedroom cool. Blinds are again a great option!
12. Organic Scented Candles
Most of us love sweet fragranced bedrooms. We tend to use lots of air fresheners to add that subtle fragrance. But air fresheners are harmful to the environment. Most commercial air fresheners are made with harmful chemicals that pose a threat to our environment. So, it is better to use alternatives of air freshener. You can opt for organic scented candles that not only add a soft and subtle fragrance to your bedroom it also makes for aesthetic home décor!
13. Planters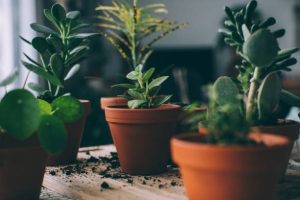 Planters are not only used for planting trees in limited spaces, but it also adds an aesthetic touch to your bedroom space. Planters can also be custom-made according to your choice and preferences. You can opt for soil-cement planters that can resist any harsh weather conditions and last long!
You can also paint your planters with various colours and make them look all more vibrant and colourful.
Conclusion
When it comes to sustainable green bedroom décor ideas, there are plenty of opportunities starting from DIY bedroom décor to using recycled or upcycled material! With a little planning, you can make your bedroom sustainable without wasting extra money! Going all green isn't pricey at all.
633 total views, 1 views today
Author Profile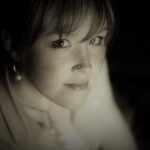 Blogger and Educator by Passion | Senior Online Media & PR Strategist at ClickDo Ltd. | Fascinated to Write Lifestyle Blogs in News & Education I have completed a journalism summer course at the London School of Journalism and manage various blogs.