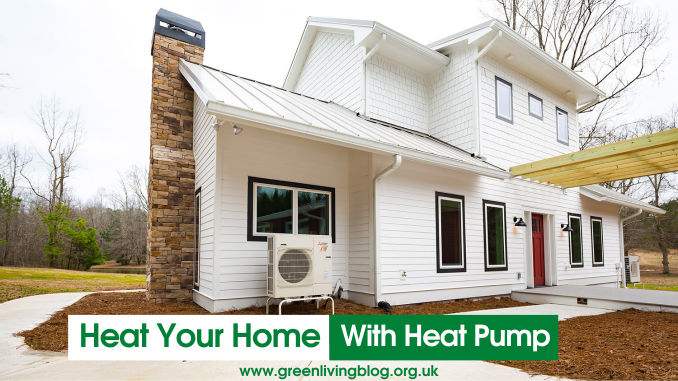 Most homes in the UK have a heat pump system called the 'wet' system, which consists of radiators and underfloor heating.
Heat pumps work at a lower temperature than traditional heating systems so work best with a wet system that can circulate the heat throughout the home.
The water that is heated by the heat pump is used to distribute heat throughout your home efficiently.
If you don't have a wet system, consider the costs of installing one
If you do install one, make sure your wet system is optimised for a heat pump
The cost of installing a heat pump and a water floor heating system will most likely be offset by the savings on your energy bills
Heat pumps are very versatile and offer an energy-efficient way to heat our homes. They transfer heat rather than generate heat meaning they can regulate temperature extremely well.
As more of us become conscious about sustainable living and saving the planet, a heat pump could be an efficient way to heat your home without heating the climate, so check if your home is suitable for heat pumps and go through this guide from Warmerinside carefully to take everything into consideration before making a decision.
Which Different Types of Heat Pumps are available?
Pressure and temperature are key to the function of a heat pump. They work in any climate by gathering heat from outside sources like air, earth, or water.
By compressing the fluid, the temperature is increased providing heat to your central heating.
Here are the different types of heat pumps and heat pump systems currently on the market:
Air-to-water heat pump
Air to water heat pumps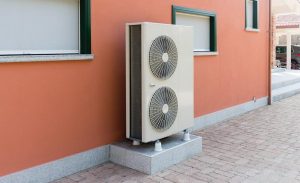 is the most common type in the UK. They work by transferring heat from the air outside into water, which heats your home via your radiators or underfloor heating. The remaining water is then stored in a hot water cylinder for when you need it.
Pros
They are low maintenance and only require an annual or bi-annual check as well as filter cleaning
You can heat your home without gas.
The electricity the heat pump uses can (partly) be produced by solar panels.
Grants are available with this type of heat pump (more about this below)
Cons
You need to have enough room to install the inside unit and outside unit.
They are more suited to homes with underfloor heating or larger radiators (low temp) as to be most effective they need a large surface area to release the heat.
Air-to-air heat pump
An air-source heat pump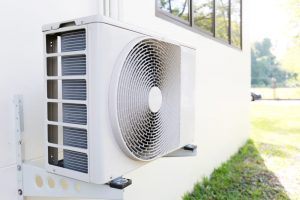 works similarly to an air-conditioner, but it blows hot air. It absorbs heat from the outside into a liquid refrigerant and using electricity, the pump compresses the liquid to increase the temperature.
Pros
They are easy to install
Easy to use
Very energy efficient, only 20% electricity needed
Works even at below zero temperatures
Cheaper than other types of heat pumps
Can be supported by solar panels
Works in a home without radiators or underfloor heating
Cons
There are no grants available
At lower temperatures, the electricity consumption will increase
Due to the design, it can move dust and pollutants when transferring the air
Ground source heat pump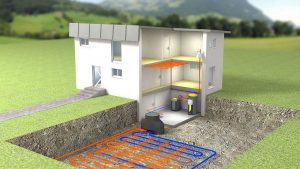 A ground source heat pump uses a series of loops installed in the ground horizontally or vertically. These loops are water pipes with added heat transfer fluid that use the natural heat in the ground.
The water is compressed and pumped through a heat exchanger, which extracts the heat and transfers it to the heat pump.
A ground source heat pump can increase the temperature from the ground to around 50°C which is then used in your home heating system.
Pros
Higher chance of consistency than other types as the ground temperature is generally more stable
Vertically installing the loops using a borehole is less disruptive
Cons
Better suited to new builds are larger properties with ample outside space
If installed horizontally, the loops require a trench around 1 meter deep
More expensive to install as the groundwork is required
They are better suited to homes with underfloor heating or large radiators.
Water-to-water heat pump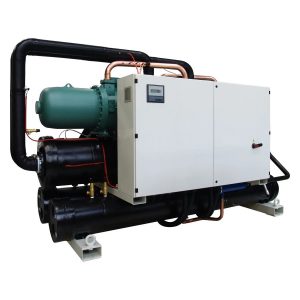 Water may not be the first thing you think of when it comes to heat unless it's an exotic ocean. But water is a powerful energy source. Water to water source heat pumps draw their heat energy from a water source in two different ways:
Open-loop heat pumps use water as the primary heat source. This can be from a borehole, river, or lake. The heat pump extracts the energy as the water passes through.
Closed-loop heat pumps use a water-to-water heat pump that feeds into your heating system. A closed water loop can be operated using another energy source such as a gas boiler. This method transfers rejected energy from one area to another where it is needed.
Things to consider:
Need to be close to a large water source
May need approval from the Environmental Agency
Need enough space to lay pipes between the water and your home
The low humming noise is generated by the pump
Hybrid heat pump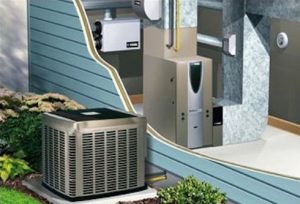 A hybrid heat pump system (also known as dual fuel) is the combination of renewable energy with a traditional system. The system switches between the heat pump and fossil fuel system depending on which is the most efficient at that time.
When the outside air reaches lower temperatures, the heat pump will shut down and the traditional system will kick in to generate the energy needed most effectively.
In most instances, a domestic hybrid system is an air-to-water heat pump combined with a gas boiler.
Hybrid heat pumps are one the most popular sustainable heaters. This is because it can be installed in homes with mediocre insulation and the relatively low purchasing price
Pros
Neither system works too hard to provide heat so increases longevity
The good temperature all year round
Cheaper than a standalone air-to-water, ground source heat pump.
Cons
Still reliant on fossil fuels
Installing both systems is more expensive
Maintaining and servicing 2 systems
Are there grants for heat pumps?
There are grants available for all the heat pumps mentioned above, except for the air-to-air heat pump. The Domestic Renewable Heat Incentive (Domestic RHI) is a government scheme that aims to promote the use of renewable heat in the UK.
If accepted, you will receive quarterly payments for 7 years for renewable heat that is produced by the heat pump system you have installed. This is around £2,000 – £3,000 per year. The main requirements to receive the funding are:
Metering requirements and up to date readings
Your Microgeneration Certification Scheme (MCS) number
Your Energy Performance Certificate Number (EPC)
A UK bank account
Invoices for both the cost of the pump and installation costs
You must stick to the rule set out by the scheme
The guidelines are subject to change, so ensure you check the grant requirements before you decide to install a heat pump in your home.
Closing Thoughts
Evaluating your own heating system at home will be worth the effort as using any of the above listed heat pumps can reduce your energy cost and reduce your carbon footprint significantly. So, if you're willing to do your bit for greener living, you're not alone and the government green home grants and heat pump experts will support you with every step of the way to install a suitable heat pump system in your home.
1,734 total views, 1 views today
Author Profile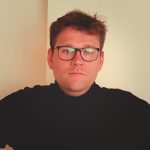 Kees is a specialist on sustainable heating for existing homes. You find comprehensive information about efficient boilers, double glazing, heat pumps and solar panels on WarmerInside.co.uk.