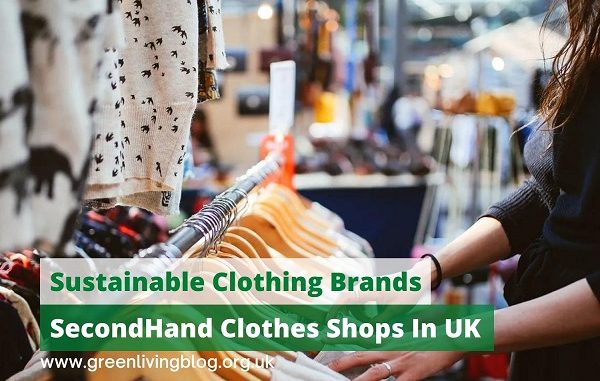 Integrating sustainability within fashion has become one of the most in-demand trends this decade. Here we discuss the best sustainable clothing brands and second hand shops in the UK to help anyone willing to follow the green lifestyle.
Since everyone has become more environmentally conscious, everyone is trying to strive for clothing that is both fashionable and ethical.
Therefore, using second hand clothes and sustainable clothing provides maximum utility while maintaining a stable economy and healthy environment. It also helps small businesses join the market of ethical clothing.
But what does one truly mean by ethical fashion? What is a sustainable clothing brand?
What Is Ethical & Sustainable Fashion?
Translated literally, ethical fashion refers to clothes produced in a way that addresses several social issues that are caused by the fashion industry and tries to undo the effects of those issues.
In other words, one of the characteristics of an ethical clothing brand is that it cares about societal issues, such as being animal cruelty-free. These brands tend to use close to none or very few animal products, and they strive to be 100% vegan, which means that they tend to not advertise or sell clothing that includes or is made from wool, leather, fur, etc.
Moreover, to minimize carbon emissions by caring about their resources and energy, ethical brands tend to use and dispose of chemicals safely and without impacting water bodies.
And lastly, every ethical fashion brand treats all its employees throughout the supply chain fairly. This includes ensuring worker safety, policies that state employee's right to join a union, payment of fair wages, and prohibition of forced or child labour.
Therefore, to conclude, an ethical fashion brand cares about the planet, the animals, and its people.
4 Ethical & Sustainable Clothing Brands In The UK
1. BEEN London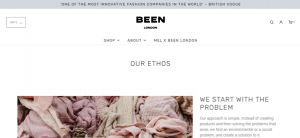 BEEN London is a brand based within London that aims to recycle waste into ageless accessories. The brand tends to emphasize durability within its ethical brand image. Moreover, with their approach of cutting square and rectangle panels, there is a guarantee of producing no waste.
Furthermore, the brand tends to minimize carbon footprint and hires artists with artesian history to not only preserve the skills they have acquired throughout their generations but also to acquire trusted employees throughout the brand's journey.
For example, the very last bag-makers in East London had joined the brand at the very beginning of its journey. And lastly, for every BEEN London bag purchased, the brand plants a tree, which has caused them to plant one acre of trees within the Peruvian Amazon.
2. Mother Of Pearl
On the pricier side, Mother Of Pearl is a luxury ethical womenswear and designer accessory brand within the UK which focuses on celebrating individuality. Moreover, the utilization of eco-friendly materials such as organic cotton ensures a stable living wage for its employees at every step of the supply chain.
Most sustainable collections of the brand have been displayed at the London Fashion Week and Copenhagen Fashion Week. Since transparency is one of the major characteristics of this brand, its website displays the sustainable character of every piece. This allows the brand to monitor its progress and allows the customer to see how one garment differs from another.
3. People Tree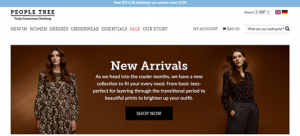 This brand is well known for selling eco-friendly materials and provides a good range from 6 to 18 UK sizes. Moreover, the brand provides innovative yet affordable fashion while maintaining the integrity of the planet and its people.
The collections include organic cotton and responsibly sourced wool, which are made through hand weaving, hand embroidery, knitting, and hand block printing. This was the first company to be awarded the World Fair Trade Organization product label. This means that the People Tree exhibits transparency and uses environmentally best practices, along with a work environment that promotes gender equality, and provides fair wages for its employees. The brand is vegan approved through PETA and deals in pure cotton products. The site is neatly categorized for women's wear and provides free delivery within the UK on orders above £50.
4. Elvis & Kresse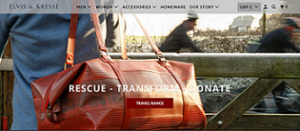 Another way to donate to charity through sustainable fashion is through investing in Elvis & Kresse which upcycled reclaimed material into luxurious accessories which are sustainable and ethically handmade. Here, almost 50% of the profit is given to charity. Moreover, in 2017, when the Burberry Foundation entered into a partnership with "Elvis & Kresse" to minimise the leather waste that is produced within the fashion industry, a partnership of 5 years was established where this London based accessory company was able to reduce leather wastage of 120 tons.
4 Online Shops That Sell Ethical Second Hand Clothing
1. eBay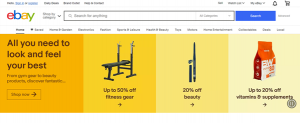 Probably one of the most famous places for second hand clothes and vintage clothes online, eBay is popular not just within the UK but even worldwide. eBay can be a goldmine for second hand clothes shopping for many because of how easy it is to use, and how open most sellers are to bargain. They also tend to sell products at affordable prices.
Moreover, if a platform extends beyond just providing ethical clothing and has other accessories as well, it is very hard to resist it. However, one of the biggest downsides of eBay happens to be that the photographs of the items being sold can be a hit or a miss depending on the seller and their photography skills.
Furthermore, this website provides an option of auctioning as well, where the biggest bid wins the item. More and more buyers have turned towards this site now and the platform continues to grow exponentially.
2. Oxfam Online
Oxfam is a perfect mix of shopping for second-hand clothes while contributing to charity. From women's clothes to jewellery to men's bow ties and ties, anything can be searched for in the Oxfam online shop.
Moreover, filtering the shopping experience based on different categories such as price, colour or brand makes it much more convenient for the user to come back to the website in the future or even in person.
Moreover, item returns are free, and every purchase goes into supporting a good cause. Furthermore, this site does not have the deviation in photographs uploaded by different sellers because everything is well-photographed.
3. Depop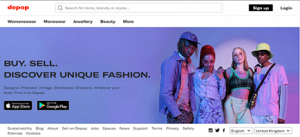 If one was to explain Depop, it can easily be called a mix of Instagram and eBay. However, unlike the bidding option available on eBay where one needs to remember to come back at a specific day or time to bid for an item, Depop follows a fixed-price format, which is quite convenient for monitoring one's budget too. Moreover, the search function comes alongside a filter feature which makes shopping for clothes much easier.
 4. ASOS Reclaimed Vintage
Within the category of thrift shops, there is always an option for buying vintage clothes for both men and women. Here, you can find well-photographed vintage clothing created using offcuts and scrap materials to reduce the fabric waste in the fashion industry. However, shoppers should be aware that when someone buys from ASOS, usually, the purchase is being made from individual sellers via the the ASOS marketplace. Therefore, the shipping fees might vary a lot and will have to be paid unless one decides against buying from single sellers. Moreover, for every vintage and grunge lover, the website displays different collections such as the vintage sportswear collection or the 90s Grunge collection which can be browsed easily to find unique pieces worldwide.
Final Ethical Thoughts
Ethical and sustainable fashion is here to stay with new fashion trends and brands emerging that focus on offering clothing items made with organic materials and in more nature friendly ways while still turning several heads. Moreover, sustainability combined with fashion is quite beneficial for the employees, the consumers, and the environment of course. Using second hand clothing is no longer considered suitable for only the deprived, but rather as an authentic retro style. Such developments and innovations in ethical and sustainable fashion are a step in the right direction towards slowing the climate crisis down.
1,936 total views, 3 views today
Author Profile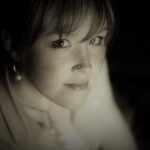 Blogger and Educator by Passion | Senior Online Media & PR Strategist at ClickDo Ltd. | Fascinated to Write Lifestyle Blogs in News & Education I have completed a journalism summer course at the London School of Journalism and manage various blogs.